Sesape nak join klik >> SINI << yer
tagged:
sesape yg bace entry ni & nak menang !!
:)
semoga bertuah!!!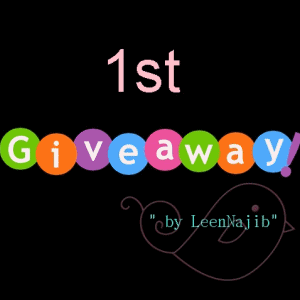 This giveaway start on 1st April 2012 and will ended on 30 April 2012.
She will use random.org to choose the winners.
The winners will be announced on 1st May 2012.
Rules and Regulations:
2. Follow and like all the sponsors.
(plz k, beri kerjasama. just like and follow semua pihak sponser)
3. Title Entry : "1st Giveaway by LeenNajib"
4. Copy the banner and link it to this entry.
#bold the banner, copy and paste
5. Tag to others blogger (min : 2 persons)
6. Lastly, leave your link entries in the comment box.
7. Checked the prizes,
here
.
The Sponsors:
Mingle Mingle Shop -
Follow
,
Like
.
Zuraida ( Lactolite ) -
Follow
,
Like
M.A.D Tote Bag -
Like
Apple Mini Collection -
Follow
B2B Collection -
Follow
,
Like
Delfira Style -
Follow
,
Like
LoveBag LoveBag -
Follow
,
Like
The Rossette -
Like
Cik Adyb's -
Follow
Cerita LadiesPurple -
Follow
Eyja Masliza -
Follow
,
Like
Miraa Hussin -
Follow
,
Like
Siti Sarah -
Follow
Fatma Fazira-
Follow
,
Like Pic
,
Like Pic
Nurul Farain -
Follow
,
Like
Hansya -
Follow